Tea Tasting Event – An Occasion for Tea 2014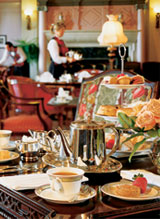 Join TeaTime editor Lorna Reeves and contributing editors Jane Pettigrew, James Norwood Pratt, and Bruce Richardson for An Occasion for Tea, an exciting weekend of tea tastings, presentations, and fun tea activities at the elegant Fairmont Empress Hotel in Victoria, British Columbia, February 7–9, 2014.
TeaTime magazine's three contributing editors will be the featured presenters at Occasion for Tea. These notable tea authorities will delight attendees with anecdotes and tips and will share their expertise through tea tastings and lectures.
Prettily situated on an almost circular bay at the southern end of Vancouver Island, British Columbia, Victoria is a small and walkable city with a very large list of tea-infused offerings. Varied afternoon and high teas, tea cafés and shops, tea-influenced spa treatments, a tea festival, and unique dining and accommodations options are all seemingly created for a tea lover's visit. Join us for this exciting tea tasting event – An Occasion for Tea 2014!
Highlights include
Two nights at The Fairmont Empress
Afternoon tea in the Empress Tea Lounge, an experience not to be missed
"Tea at the Time of Jane Austen," a presentation by Jane Pettigrew and Bruce Richardson
A tasting of rare teas with Jane Pettigrew
A Tea Scavenger Hunt to introduce you to some of Victoria's most delightful tea venues
A tasting of Indian teas with James Norwood Pratt
A unique opportunity to get to know TeaTime's editors over the course of the weekend
A farewell breakfast on Sunday
https://www.hoffmanmedia.com/wp-content/uploads/2013/12/occasion_for_tea.jpg
600
800
hm
https://www.hoffmanmedia.com/wp-content/uploads/2013/10/hm-logo-1561.png
hm
2013-12-12 13:50:53
2014-09-11 10:11:24
Exciting News for Tea Lovers!